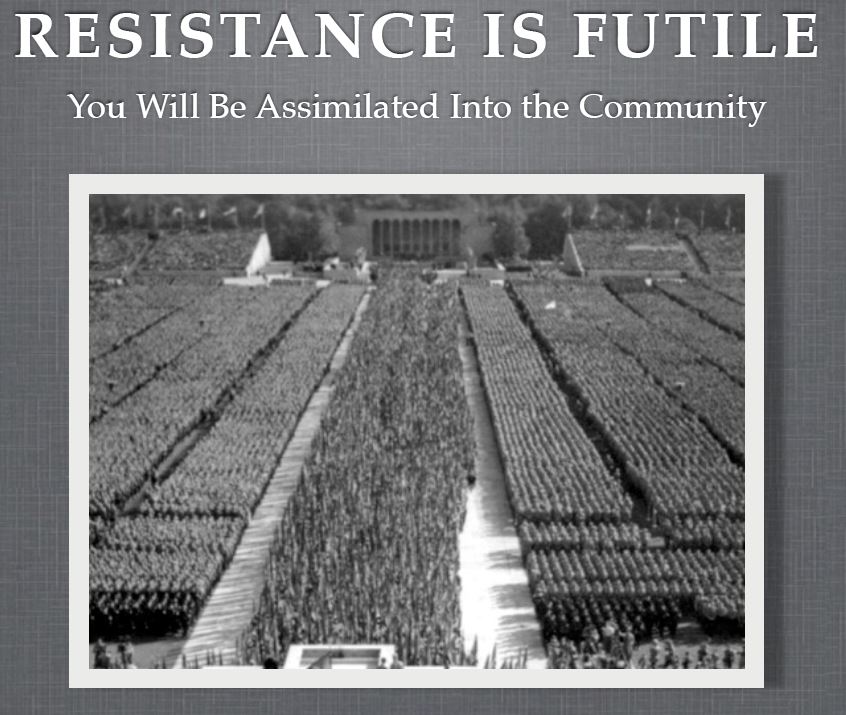 I was concerned when I learned recently that some states in the US are considering legislation to protect ministers of religion from civil and criminal penalties, if they refuse to solemnize same-sex marriages. I think this is a bad thing that appears tempting to the fearful. This is because it creates a safety zone for a very small percentage of Christians, the professional clergy, to operate within the very small confines of their churches; and by "church," it will be most often restricted to physical property set aside for religious purposes. Churches that rent school space, for example, may not get off so easily.
This is good news for mega-church and small-church clergy alike: They will enjoy "freedom of worship" (to use President Obama's phrase) and agree to give up actual religious freedom. In fact, by accepting this sort of thing, clergy is supporting a rending asunder of the church between themselves and the majority of Christians who are expected to bow to Caesar at every turn.
Christian ministers need to decide if they are preaching the Gospel of a God who is Lord of all, or is lord of their campus.
Preachers, be prepared to stand with those in the marketplace who refuse to bow the knee to Ba'al.
I had much more to say on this, but I found this little article by R. C. Sproul Jr., who says it much better than I. It is reproduced below, but the full article can be found here.
THURSDAY, JULY 2, 2015
Bread, Circuses, and the Coliseum
While the Christians who went to their deaths under the empire of Rome died for their faith, I fear they did not die for our faith. First, we must understand what Rome had against these saints. Part of the genius of the Roman empire was their "broad-mindedness." They did not roll into town after their phalanxes had left not one brick upon another and rebuild from scratch. Instead it was their habit to assimilate. As they did with the Pharisees, they cut a deal. We will rule over you, but you can, by and large, keep doing what you were doing.  Keep your temple. Worship there. Keep your traditions, your way of life.  All we ask of you is that you pay your taxes, acknowledge our authority, and then this one other little thing- we need you to acknowledge that Caesar is Lord. Burn a pinch of incense, bow the knee, and then go back to what you were doing. You don't even have to mean it.
The Christians' problem was more political than narrowly theological. You see the very first creed of the church was just three words long, but managed to confront Rome at its heart. Christians were those who confessed Christ is Lord. They died by the thousands because they would not confess that Caesar is Lord.
Which brings us to our faith. We're like the Pharisees. We have our worship services, our private convictions, and that's where our faith ends. The rest of our lives are committed to the authority of the state, and to the diversions and distractions the broader culture provides. We are in no danger because we are no danger. When the world calls our convictions "hate" we simply change them, insisting that our response to the wholesale turning over of God's created order is more love, more appeasement, more assurance that we are not a danger. Some of us reinterpret our Bibles to get with the times. Some simply look away awkwardly when the Bible embarrasses us. We conflate the Biblical notion that all sin is rebellion against the living God and deserving of His judgment into the much safer notion that all sins are equal, making all of them innocuous, not worthy to be mentioned.
When the Supreme Court made its most wicked ruling, upending the natural, God created order of things, we ignored it. When we finally woke up, we found safe, reasonable, Rome approved ways of "fighting" it. 42 years later and still three thousand little babies are murdered every day, right in our own neighborhoods. And we are more interested in our favorite football team.
We worship a Jesus who will save us from our sins, but whose reign we're willing to negotiate. We worship a state that simply requires of us that we be nice and keep our convictions to ourselves. We worship distraction, so that we won't have to face our idolatry. We worship the acceptance of the broader culture, and sacrifice all else to get it. We're not like our fathers who died for Jesus, but like our fathers that killed Him and the prophets God sent to call us to repentance, because they, like we, worship the god of this age.
Until we stop repenting to the god of this age for the plain teaching of the living God, and start repenting to the living God for bowing before the god of this age, we will be trodden underfoot. Until we weep for our sin, until we tear down the high places, until we cease to hand our children over to Moloch we will burn with Rome. Lord be merciful to us, sinners.