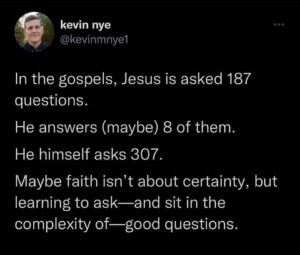 This meme is a statement of agnosticism.
If you consider the Scriptures, they say exactly the opposite. The first question in the Bible was from the serpent, and it was an introduction of doubt against the knowledge Eve had of God. She had certain knowledge, and that was cast into doubt by his question.
Yes, Jesus asked questions, and these were to expose the rebellion in the hearts of His hearers. Questions were asked of Jesus, and these were often meant to trap Him in His words. But the context of all these questions is that there is a truth that is knowable and certain, and that truth is Jesus Christ. He didn't seek to arrive at truth by a dialogue, but used that method to expose error, corruption, and ignorance (Nicodemus). Jesus did not ask questions to learn the answers. Honest questions seek a certain answer, not a discussion of a range of opinions.
I can find no place in Scripture where doubt (the opposite of certainty) is commended as a virtue, or a fruit of godliness. It is everywhere condemned, while certainty and conviction are set as goals for the believer.
It may be that the meme author is confusing doubt with humility, but to do that would require us to believe that certainty is somehow a proud thing, something to avoid. It is very possible to be both humble and certain. God actually commands both, so He expects both.
Acts 2:36 36 Let all the house of Israel therefore know for certain that God has made him both Lord and Christ, this Jesus whom you crucified."
James 1:5–8 5 If any of you lacks wisdom, let him ask God, who gives generously to all without reproach, and it will be given him. 6 But let him ask in faith, with no doubting, for the one who doubts is like a wave of the sea that is driven and tossed by the wind. 7 For that person must not suppose that he will receive anything from the Lord; 8 he is a double-minded man, unstable in all his ways.
Hebrews 11:1 11 Now faith is the assurance of things hoped for, the conviction of things not seen.
"Confidence" (related to certainty) occurs about 31 times in the NT (in Greek), and is translated as confidence, boldness, courage, plainness. It is this boldness that, when expressed by Christians, is so despised by the world today. It is often fine with others if we are hesitating, uncertain, uncomfortable, and "nuanced" about our faith, but it is very offensive to assert it as though we are absolutely certain that it is true.